Edition 10: Children of Ether, Meiji Tokyo Renka, Ninja Vampire Project, and more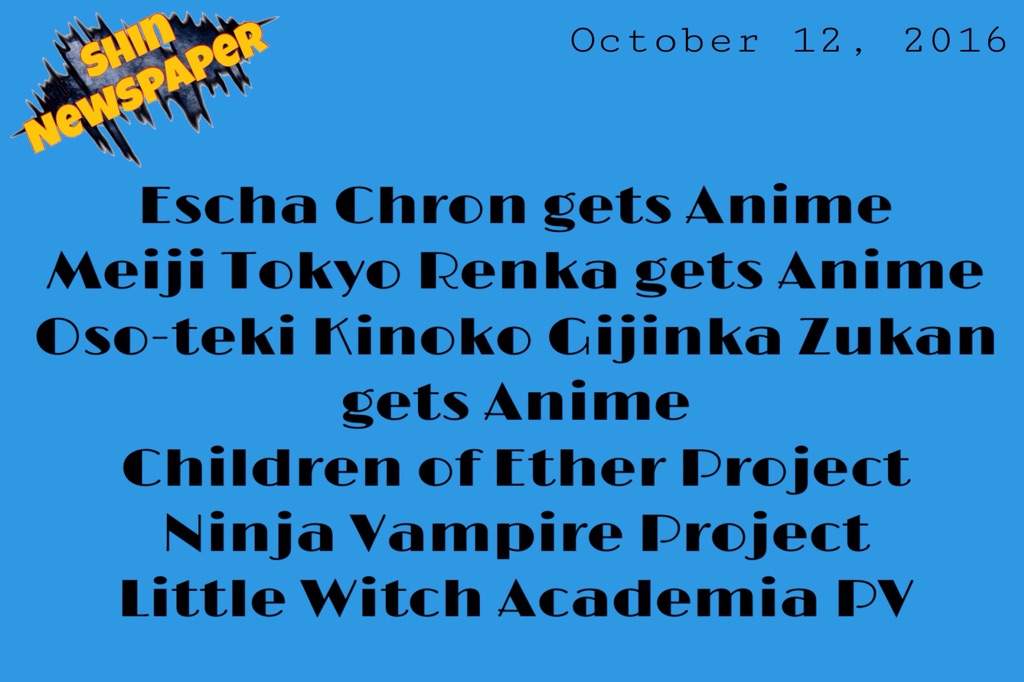 I studied the whole day, it's late now and I'm going to write an exam and hold a presentation about ion-chromatography tomorrow. No time to waste, so let's get started.
Escha Chron gets Anime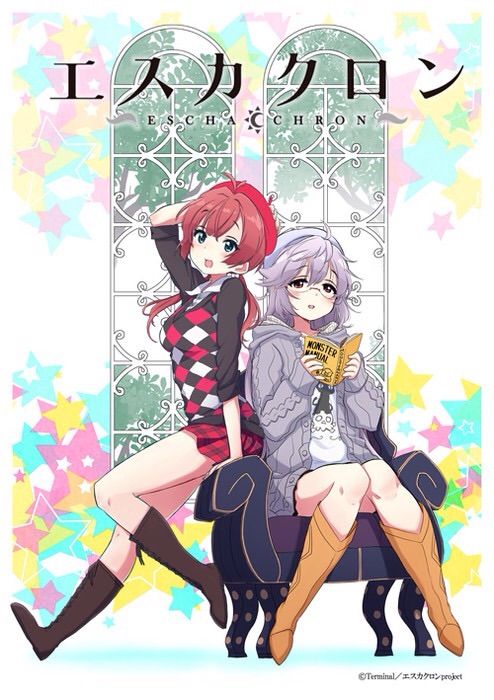 Avex Pictures' DIVE II Entertainment music label announced that its original "Escha Chron" stage recital project is getting an anime adaptation.
The "heartwarming" anime's story follows the two titular women Escha and Chron, whose contrasting personalities are like the sun and moon. The two women are from "Terminal," a future post-apocalyptic world that's empty and monochrome. The two women cross worlds and arrive in the present day, which they call "Transit." As Escha and Chron experience the light (scenery) and sound (music) of the real world, the future world of Terminal gradually changes into a more vivid world.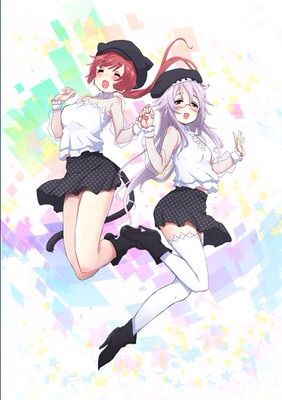 Kiyono Yasuno and Chika Anzai are reprising their roles from the stage recital as Chron and Escha, respectively, for the anime. Seiji Mizushima is serving as chief director of the anime at studio Lerche. Hikaru Yamaguchi is directing the anime. Tatsuya Takahashi is writing the script, Toru Minazuki is the original character designer, and Satomi Watabe is adapting those designs for animation. Hifumi,inc. is composing the music at DIVE II Entertainment. Terminal is credited with the original work.
Meiji Tokyo Renka gets Anime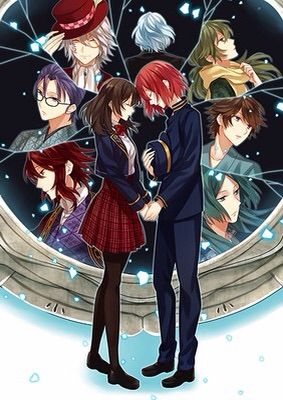 A tv anime series and a brand-new game in Broccoli's Meiji Tokyo Renka romance visual novel game franchise for female players has been green-lit. The night session of the "Meiji Tokyo Renka ~Haikara Roman Gekijō 4~" event made the announcements before 2,000 people at the Maihama Amphitheater in Chiba.
The Meiji Tokyo Renka franchise began with a 2011 mobile game, which already inspired the anime movie Gekijōban Meiji Tokyo Renka: Yumihari no Serenade. The movie's website describes the story's prologue: On an evening lit by a crimson full moon, an ordinary high school girl named Mei Ayazuki meets a self-proclaimed magician named Charlie at a festival. Through Charlie's magic, she time-travels to the Meiji era in Tokyo, where she meets and falls in love with various great historical figures from that time period.
Oso-teki Kinoko Gijinka Zukan gets Anime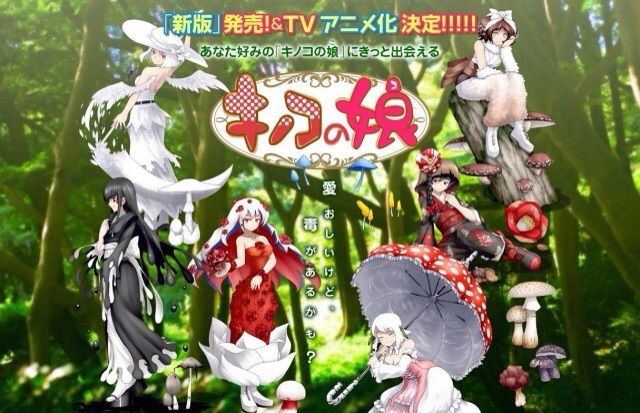 Oso-teki Kinoko Gijinka Zukan, a picture book that turns mushroom varieties into girls, is being adapted into a tv anime. The 3D CG anime will air in 2017 under the title Forest Fairies: Mushroom Girls, and it will tell an original story with musical elements.
Before the anime airs, the Anime-chan ni Kaeru Kuni television variety program began including characters, voice cast members and other elements from the anime. In addition, Shinpan Oso-teki Kinoko Gijinka Zukan, an update of the original 2014 book with over 100 mushroom varieties in full color, went on sale on October 5.
Children of Ether Project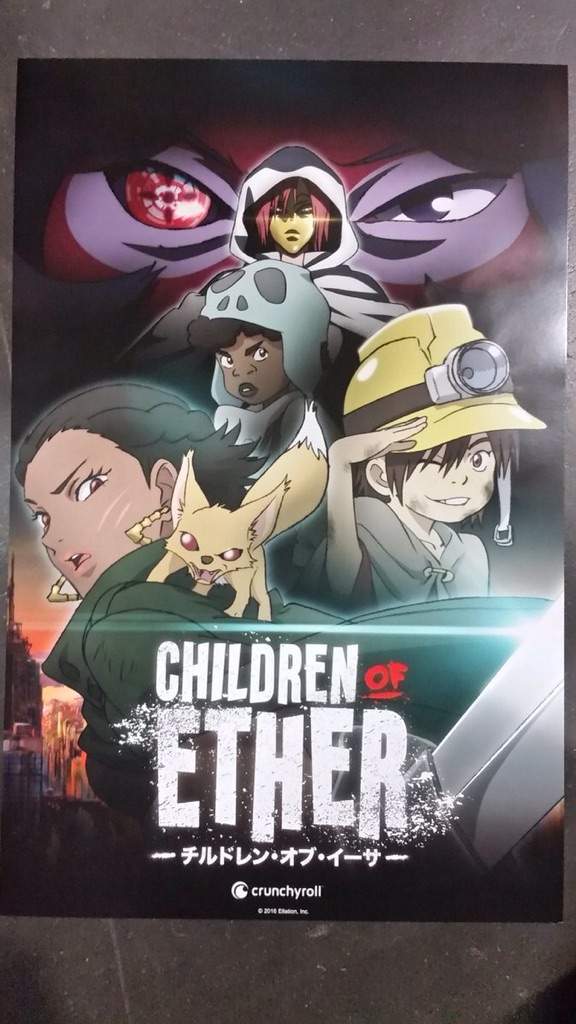 Animation director LeSean Thomas announced at Crunchyroll's panel at New York Comic Con that he is collaborating with Crunchyroll on an original animation project titled Children of Ether. The animation will stream on Crunchyroll.
Thomas is directing the project at Yapiko Animation. The staff also includes character designer Hiroshi Shimizu, storyboard director Shingo Natsume, animation director Yûichi Takahashi, and animator Mitsuo Iso. British musician Mr Hudson will compose and perform the soundtrack. American comic artist Ronald Wimberly provided some early concept art.
Crunchyroll describes the story:
Children of Ether follows Rhonda, a woman with a dark past and a mysterious power, as she is pursued by an unknown assailant after the death of her father. Aided only by her wits and a pair of orphans, Rhonda journeys through a decaying, dystopian metropolis populated by raiders, gangs, and the supernatural. As she struggles to survive in this harsh urban tangle, she meets both friends and enemies, and searches for answers about this power, "The Ether", awakening within her.
Ninja Vampire Project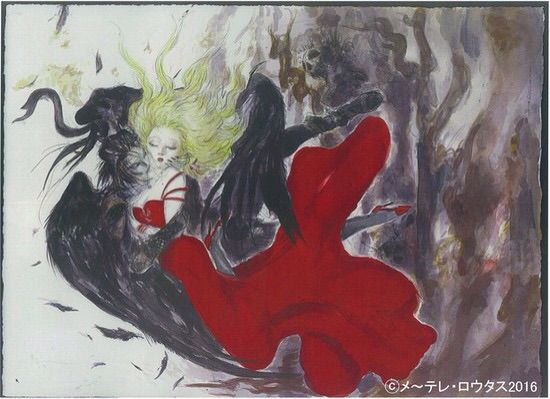 Nagoya TV and Lotus, Inc. announced that they are collaborating to develop an original property titled "Ninja Vampire" that is intended for overseas markets. Renowned artist Yoshitaka Amano is drawing the visuals and the concept art.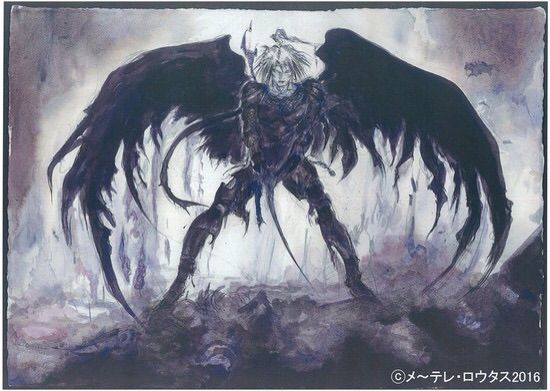 The story will begin with the journey of a vassal of Date Masamune, who traveled to Italy and Spain. The expedition 400 years ago gave birth to a new species called "ninja vampire," who are then resurrected in the modern age. Unaffected by the Cross, holy water, or garlic, the ninja vampires fight a war with the old vampires and humanity using their AI and the latest technology.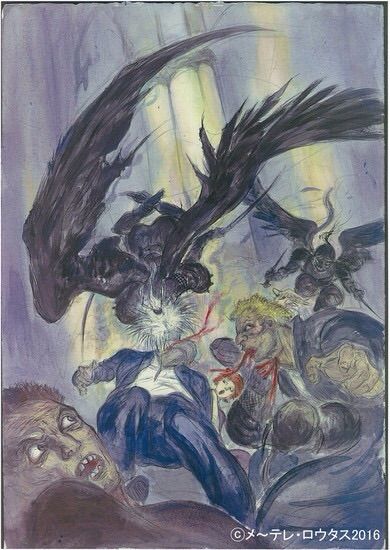 Lotus, Inc. will showcase the concept at this year's MIPCOM television industry trade show, which will take place in Cannes, France on October 17-20. The companies plan to market the property as a potential animated television series, live-action project, and other media.
Little Witch Academia PV
The official website for the Little Witch Academia tv anime series began streaming a teaser promo video. The video first debuted at the Machi-Asobi event earlier in the day, along with a one-year-anniversary screening of the previous Little Witch Academia: The Enchanted Parade anime. The new anime's teaser video proclaims that a new story begins here.
The show's story revolves around Akko, who as a child watched the witch Shiny Chariot perform a show, and from then on dreamed of becoming a witch. She enters the Luna Nova Academy, a school for witches that Shiny Chariot attended. In this new town she meets new friends and starts a new school life. At the school she has lessons on riding brooms and the wonder of magic, but Akko and her friends Lotte and Sucy keep getting wrapped up in tumultuous events.
I hope you also enjoyed this Shin issue. If there is anymore interesting news I'll write an Extra and link it to next week's blog.