Edition 6: Lupin III, Pokemon Sun & Moon, Interviews with Monster Girls, and more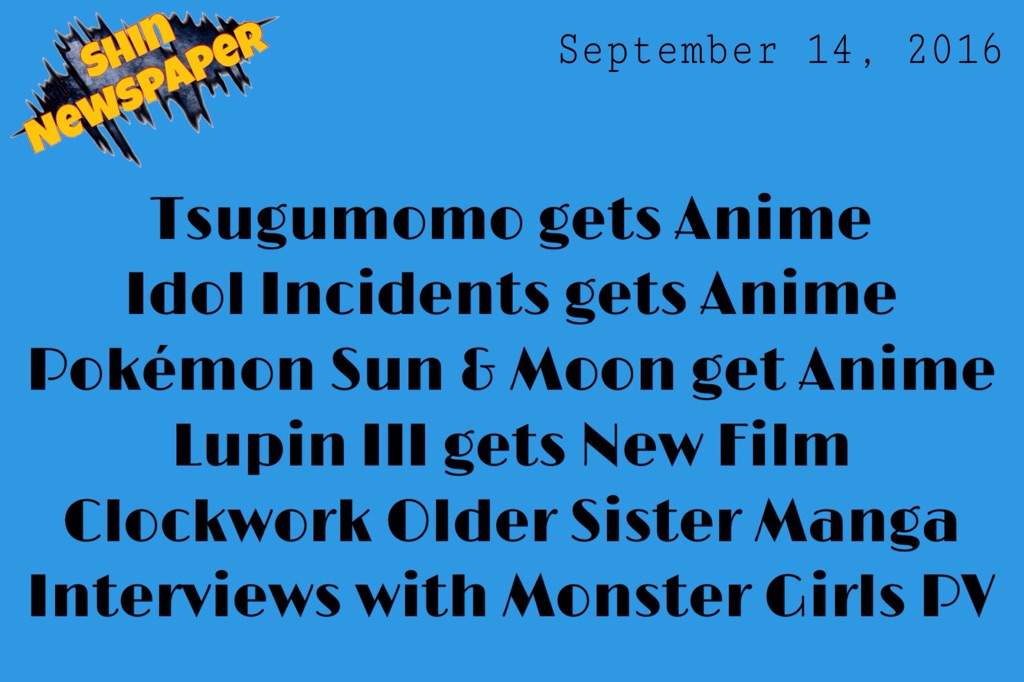 Today you get the newspaper a few hours earlier as I'll be away till Saturday. There were new anime to Tsugumomo, Idol Incidents and Pokémon Sun & Moon announced as well as a new Lupin III anime film. It's been also a new manga called Clockwork Older Sister announced and a promo video to Interviews with Monster Girls has been released.
Tsugumomo gets Anime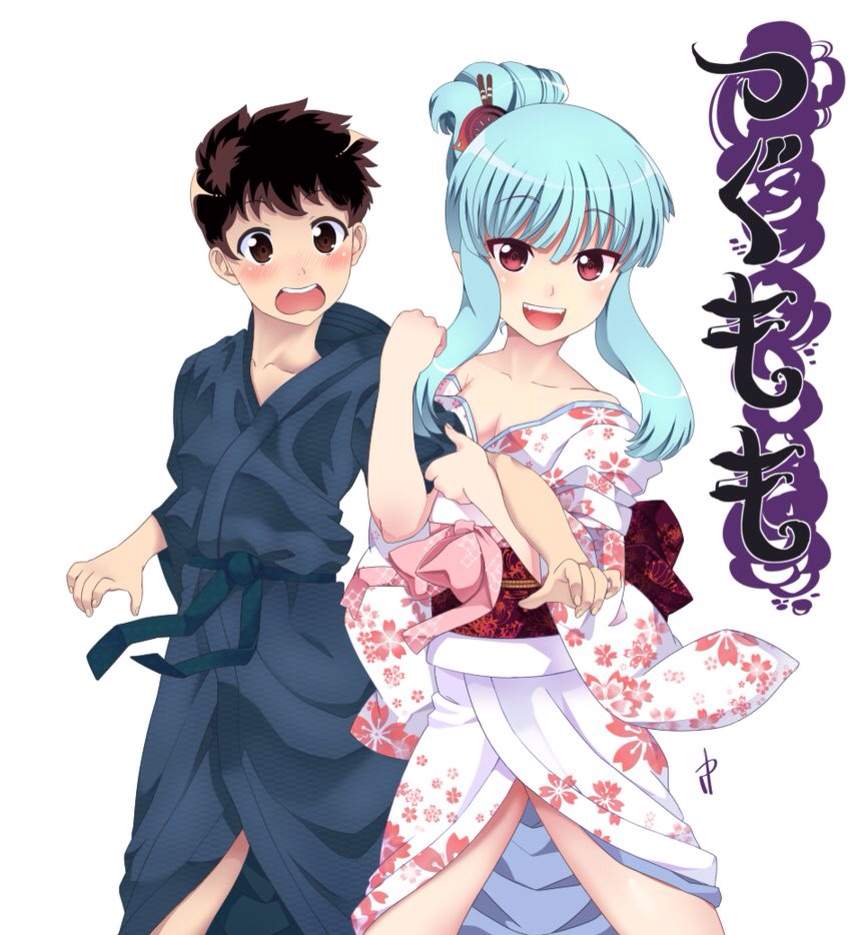 The wraparound jacket band on the 18th volume of Yoshikazu Hamada's Tsugumomo manga announced that the manga is getting a tv anime adaptation in 2017.
JManga describes the series:
Kazuya Kagami's most treasured possession in the world is the obi left to him by his late mother. The scent of cherry-blossoms infused into it helps him through his day – but he never expected it to save his life, becoming a beautiful kimono-clad girl who calls herself an "artifact spirit." Her name is Kiriha, tsukumogami of the sash, who naturally moves in with him, as he is her "owner." Throw in Chisato, his bespectacled friend, an overprotective older sister who wants to take baths with him, a busty priestess, a seductive sorceress named Kokuyoura, and Kazuya's life has just gotten a lot more…interesting.
Idol Incidents gets Anime
MAGES' official website for its Idol Incidents multimedia project announced that the project is getting a tv anime adaptation. The anime will premiere in January.
Daisuke Yoshida is directing the series at animation studios MAPPA and VOLN. Naoya Takayama is overseeing the scripts, Sumino Kawashima and Soutarou Hayashi are writing the scripts, and Mai Ishii is serving as character designer and chief animation director. Original character designers include CUTEG, Tiv, Mottsun*, Akemi Mikoto, Yōsai Kūchū, and Mamu Mitsumomo. Tiv created the original animation character designs. Tsunku♂ is producing the opening and ending theme songs.
Pokémon Sun & Moon get Anime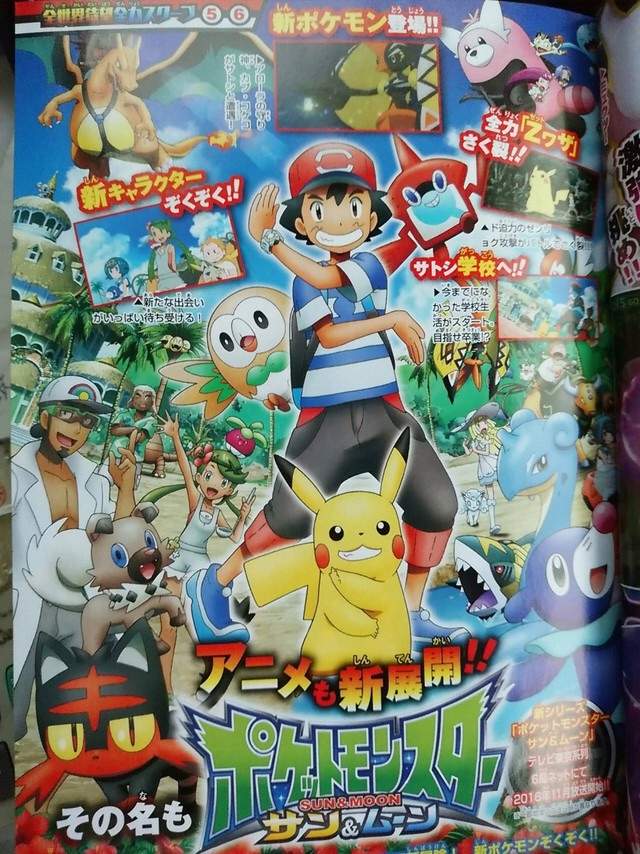 This year's October issue of Shogakukan's Coro Coro Comics magazine revealed that the Pokémon Sun and Pokémon Moon Nintendo 3DS games are inspiring a new Pokémon Sun & Moon tv anime series that will premiere in Japan in November.
The announcement states the anime will feature new Pokémon and new characters, and in the story Ash will encounter Kapu Kokeko, a god who protects the Alola region. The announcement also reveals that Ash will go to school in the series, and the series will follow his school activities as he aims to graduate.
Additionally the Pokémon Company International announced that it will launch a series of three- to five-minute animated shorts titled Pokémon Generations on its YouTube channel. The first two episodes will debut on Friday, September 16 at 12:00 p.m. EDT. The series will have 18 episodes in total.
Pokémon Generations will cover stories from the first through sixth generations of Pokémon games. The Pokémon Company describes the series:
Pokémon Generations looks back at each generation of the Pokémon video game series, diving into the stories of the games more deeply and getting to know characters and Pokémon better. Visit each region, from Kanto to Kalos, to relive the world of Pokémon like never before!
Lupin III gets New Film
Monkey Punch's Lupin III franchise is getting a new theatrical anime project titled Lupin the IIIrd Chikemuri no Ishikawa Goemon that will open in Japan on February 4. The film's official website is streaming a teaser.
The new film will feature a returning staff from Lupin the Third: Jigen's Gravestone:
Director, Producer: Takeshi Koike
Screenplay: Yuuya Takahashi
Music: James Shimoji
Animation Production: Telecom
Animation Film
Producer: Yu Kiyozono
Creative Adviser: Katsuhito Ishii
Production: TMS Entertainment
Distributor: Showgate
The current cast for Lupin III, Daisuke Jigen, Goemon Ishikawa, Fujiko Mine, and Koichi Zenigata are also reprising their roles.
Clockwork Older Sister Manga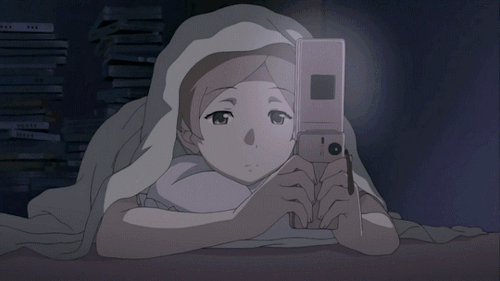 The October issue of Gentosha's Monthly Comic Birz magazine revealed that manga artist Takashi Ikeda, will begin a new manga series, Clockwork Older Sister in the December issue, which ships on October 28.
Monthly Comic Birz teases the story:
In a shopping district lived a pair of beautiful siblings, an older sister and younger brother. However, these two had a secret. A big commotion involving the whole town will unfold!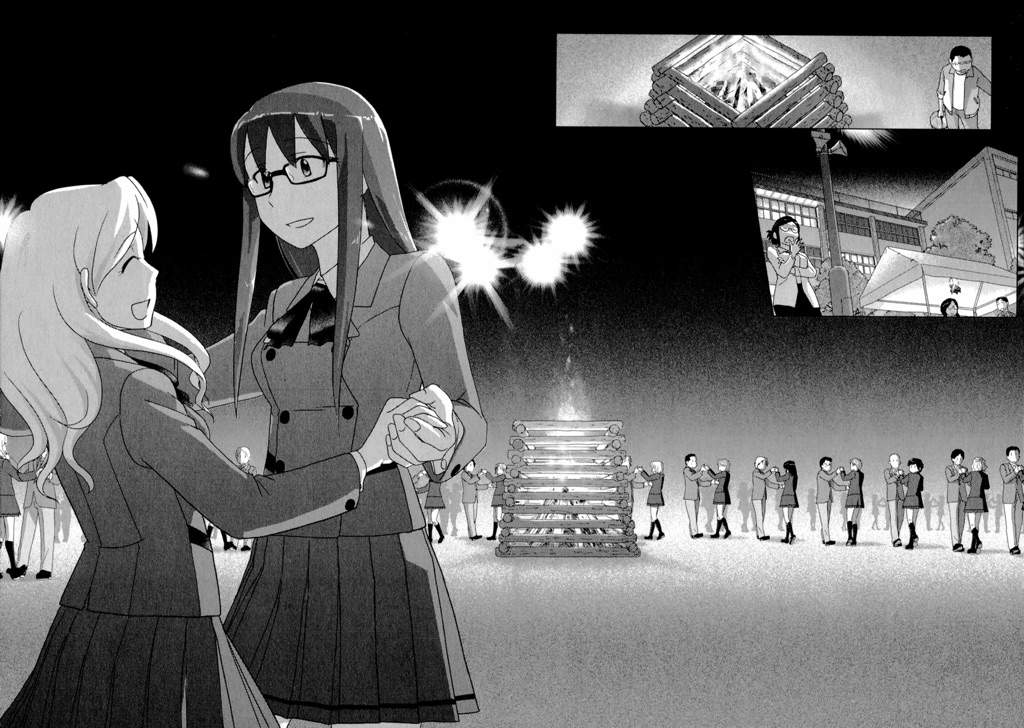 The same issue announced Shigeru Tsuchiyama will begin a new manga tentatively titled Ore, Nankyoku de Ryouri-Shitemasu in the November issue on September 30. Yashiro Ōsaka will begin a new series in the fall. Hiroshi Mori and Yuka Suzuki, Haruaki Aono, and Santa Uonome will begin new manga in the January issue on November 30 and Sugisaku will begin a new series in the February issue on December 29.
Interviews with Monster Girls PV
The official website for the tv anime of of Petosu's manga Interviews with Monster Girls updated with a teaser promo video and character visuals. The video introduces the characters.
Kodansha Comics describes the story:
Monsters of legend walk among us, going by the name "demi-humans." Ever since he's discovered the "demis," one young man has become obsessed with them. So when he gets a job as a teacher at a high school for demi-girls, it's a dream come true! But these demis, who include a rambunctious vampire, a bashful headless girl, and a succubus, have all the problems normal teenagers have, on top of their supernatural conditions. How to handle a classroom full of them?!
I hope you also enjoyed this Shin issue. If there is anymore interesting news I'll write an Extra and link it to next week's blog.